Home from Home offers a childminding service run by a qualified Montessori teacher and qualified in NVQ 3 in Children and Young Person's Workforce, for a small number of children in Arundel. Home from Home is a home based childcare enviroment which is ideal for parents who are looking for quality child care for their young pre-school aged children or older children for after school and the holiday, in a safe, caring, friendly, fun and relaxed atmosphere. I am also able to offer flexible last minute children, as short as a couple of hours if you need to dash to the shops or get your hair done!!
I live in a terranced house with its own enclosed private and reasonable large garden, which i have set up a cabin in the garden for their person use. i offer many out side activities from growing their own vegtables, digging for buried treasure, riding bikes, sand and water play as well being able to bring anything they are doing from inside to outside whilst they are in the setting. They will also benifit from the fresh air, making choices and loosing that vital energy that small onces have! I am close to parks and next to the castle park, which we'll also visit on a regular basis. The setting incorporates the comforts and flexibilty of a childminders in a caring, safe and family enviroment with the experinces and learning of a nursery.
I offer many activites including trips out to the library, softplay, children's centres, parks, local shops, and any cultural or things of interest at that time. I also do sessions which include Football, French, music, tennis, danicing and gym. I also interact with other childcarers and nannies so the children are experiencing socializing with other children, as well as the other children in the setting. This will give them the those vital social skills including turntaking, sharing and negiationg. This is preparing them for when they start school.
As well as being involved in many fun activities i do focus on many Montessori elements for example Practical life skills, pouring their own drinks, putting on their own coat/ clothes ( sometimes with help),encourging table manners as well as general manners. Older children i hope by the time they are ready for school they will have gained the basic skills ( hold a pencil, know simple shapes, colours, numbers and letters.) so all they need to worry about is have fun and make friends!!!!!!
We can only accept 3 children under 5 years old plus a further 3 children aged over 5 years old (ideal for school holidays) - so places are limited!
Located in Kings street, near the cathedral and maltravers street. I am also close to buses and Arundel train station.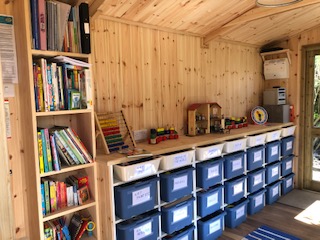 Home from Home Childminding